Czech National Initiative
In 2016, the team of experts led by Prof. Vladimír Mařík, the director of CIIRC CTU, prepared on demand of the Minister of Industry and Trade Jan Mládek the comprehensive document on the National Initiative Industry 4.0. The Government approved the document "Industry 4.0 – the initiative for the Czech Republic" in August 2016.
CIIRC CTU has significantly contributed to the Industry 4.0 Initiative since beginning. Now the Centre is acknowledged as the key academic partner of its successful implementation in the Czech Republic.
---
Measures
The Industry 4.0 national initiative assumes the need for greater synergy between academia, large, medium-sized and small enterprises, manufacturers and users of automation and informatics technologies. More than ever before – especially due to the high capital costs in implementing the principles of Industry 4.0, the speed of technological changes and standardisation – it is necessary to interconnect all actors affecting the manufacturing sector.
The Initiative includes measures to promote investment and standardization as well as applied research. It deals with issues related to the cyber security, logistics and normalization. The Czech Republic is a country with one of the longest industrial traditions. It is our ambition for its future to remain tied to industry.
The Fourth Industrial Revolution brings with it a number of challenges. It provides a unique opportunity to ensure the long-term competitiveness of the Czech Republic in the global competitive environment.
The Industry 4.0 initiative is a compelling example of success that is based on the integration of diverse approaches and on transparent collaboration between disciplines and sectors not only in the physical world but also in the cyber world.
---
German Initiative Industrie 4.0
Industry 4.0 has become a driving force for the German economy. At the inter-national level, Germany has taken on a leading role. To strengthen this position, the German Federal Minister for Economic Affairs Brigitte Zypries, Member of the Executive Board of Telekom Reinhard Clemens, Member of the Executive Board of SAP Bernd Leukert and other high-ranking representatives of Plattform Industrie 4.0 presented a ten-point plan at the Digital Summit.
---
Czech-German R&D Cooperation
In terms of the strategic management of the effects and impacts of Industry 4.0, Germany is almost five years ahead of the Czech Republic. The possibility to transfer knowledge and good practices from the German environment is therefore a key parameter to success.
The grounds of Czech-German R&D collaboration in the field of Industry 4.0 were set during the state visit of German Chancellor Angela Merkel in the Czech Republic. The direct positive effect was the signature of a MoU on R&D Collaboration in the field of Industry 4.0 between CIIRC CTU Prague and DFKI (core partners of the RICAIP Project consortium) as part of the official top level state visit of the German Chancellor Angela Merkel in the Czech Republic in August 25, 2016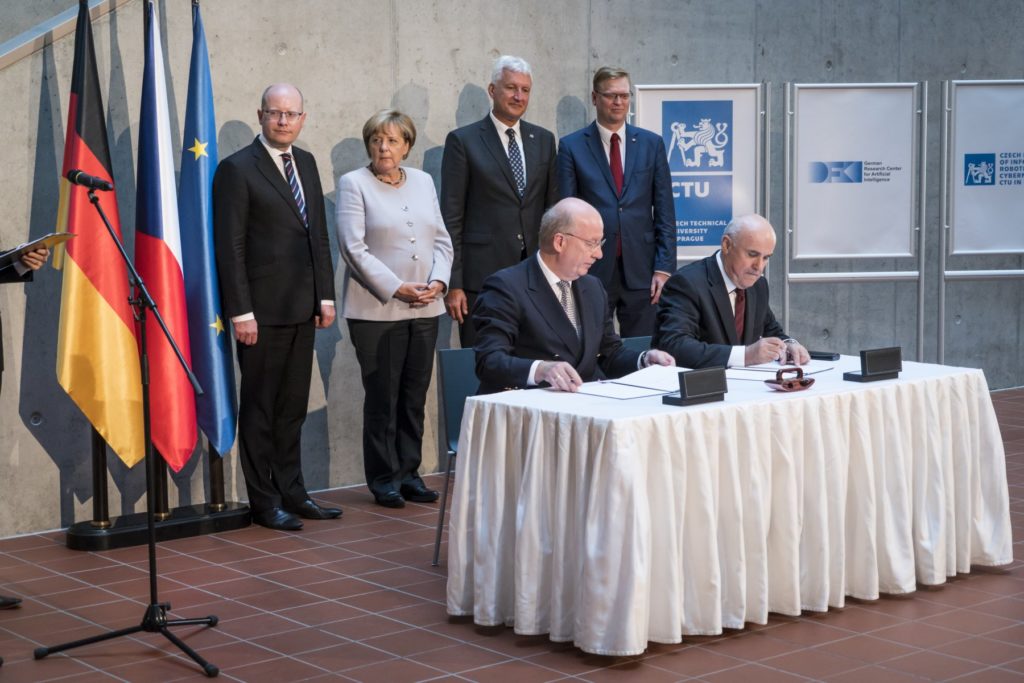 ---
Fore more information about industry 4.0, please see the following documents