Czech Digital Week – Media Breakfast with Deputy Prime Minister
October 31, 2022
|
08:30
–
10:30
UTC+1
At the request and in cooperation with the Office of the Government of the Czech Republic, we are co-organizing a Media Breakfast with Deputy Prime Minister for Digitalization and Minister for Regional Development Ivan Bartos to launch Czech Digital Week and a tour of the RICAIP Testbed for Industry 4.0 at the CIIRC CTU in Prague. The breakfast will take place on Monday 31 October 2022 at 9:00 am at the CIIRC CTU in Dejvice, Prague, and is reserved for invited media representatives only.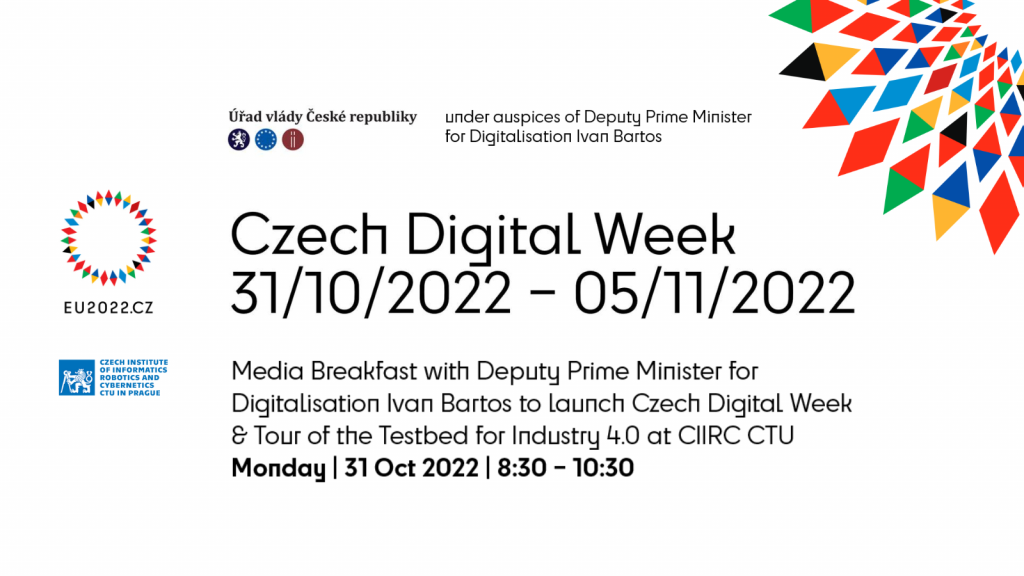 The main topic of the breakfast will be the first edition of the Czech Digital Week, which will take place under the auspices of the Czech EU Presidency from 31 October to 5 November 2022.
Czech Digital Week will include a series of events – among others also Digital Conference 2022 – organised by the public and private sector, with the theme of digital transformation at its heart. Deputy Prime Minister Bartoš will also summarise the achievements of the current Czech Presidency in the field of digitisation and outline further plans.
Representatives of CIIRC CTU – Ondřej Velek, Director of CIIRC CTU, and Prof. Vladimír Mařík, Scientific Director of CIIRC CTU – will present strategic projects and infrastructure for innovation, research excellence and digital transformation, such as RICAIP, EDIH, COMENIA. There will also be a signing ceremony of the Memorandum of Accession of the Technical University of Ostrava represented by the Rector Prof. Václav Snášel to the strategic project IPCEI-CIS COMENIA. The Testbed for Industry 4.0 will then be guided by Testbed Director Pavel Burget and Deputy Head Petr Kolář.
| | |
| --- | --- |
| 8:30 – 9:00 | Arrival of the media representatives |
9:00 – 9:45
Deputy Prime Minister Ivan Bartos:
/ Introduction of the Czech Digital Week events
/ Review of the Czech Presidency on the Digital Agenda
/ Current European legislation – extension of European digital identity, regulation of artificial intelligence systems…
9:45 – 10:10
CIIRC CTU – Presentation of strategic projects and infrastructure for the development of digital innovation in the Czech Republic

Ondřej Velek, Director of CIIRC CTU:
Prof. Vladimír Mařík, Scientific Director of CIIRC CTU
Introduction of CIIRC CTU – Strategic projects and infrastructure for innovation, research excellence and digital transformation – RICAIP, EDIH, COMENIA

Vít Dočkal, Managing Director of TRIX Connections:
COMENIA – European Infrastructure for Next Generation Cloud Services

Prof. Václav Snášel, Rector of VŠB-TUO |
Ondřej Velek, Director of CIIRC CTU |
Jaroslav Lískovec, Managing Director of TRIX Connections:
Ceremonial signing of the Memorandum of Accession to the IPCEI-CIS COMENIA strategic project
10:10 – 10:30
Tour of the RICAIP Testbed for Industry 4.0 laboratories
Topic: Digital Learning & Education – Cooperation between academia and industry

Pavel Burget, Director of Testbed for Industry 4.0, CIIRC CTU:
Infrastructure and education in Robotics, AI and flexible manufacturing

Petr Kolář, Deputy Head, Industrial Production and Automation, CIIRC CTU:
Infrastructure and Education in Robotics and Manufacturing Machines and Technologies