---
The laboratory focuses on the automatic assembly, planning and virtualization of production – located on the ground floor 850 m2.
Automatic loading station
Robotic cells for flexible production
Multi-axis motion system – delta robot and conveyor
Universal robotic cells
Automatic warehouse with mobile robots
Robotic 3D printing
Flexible robotic line with a collaborative robot
Interactive collaborative robotic workplace for assembly
Robotic cells for machine vision
Robotic workplace for gastronomy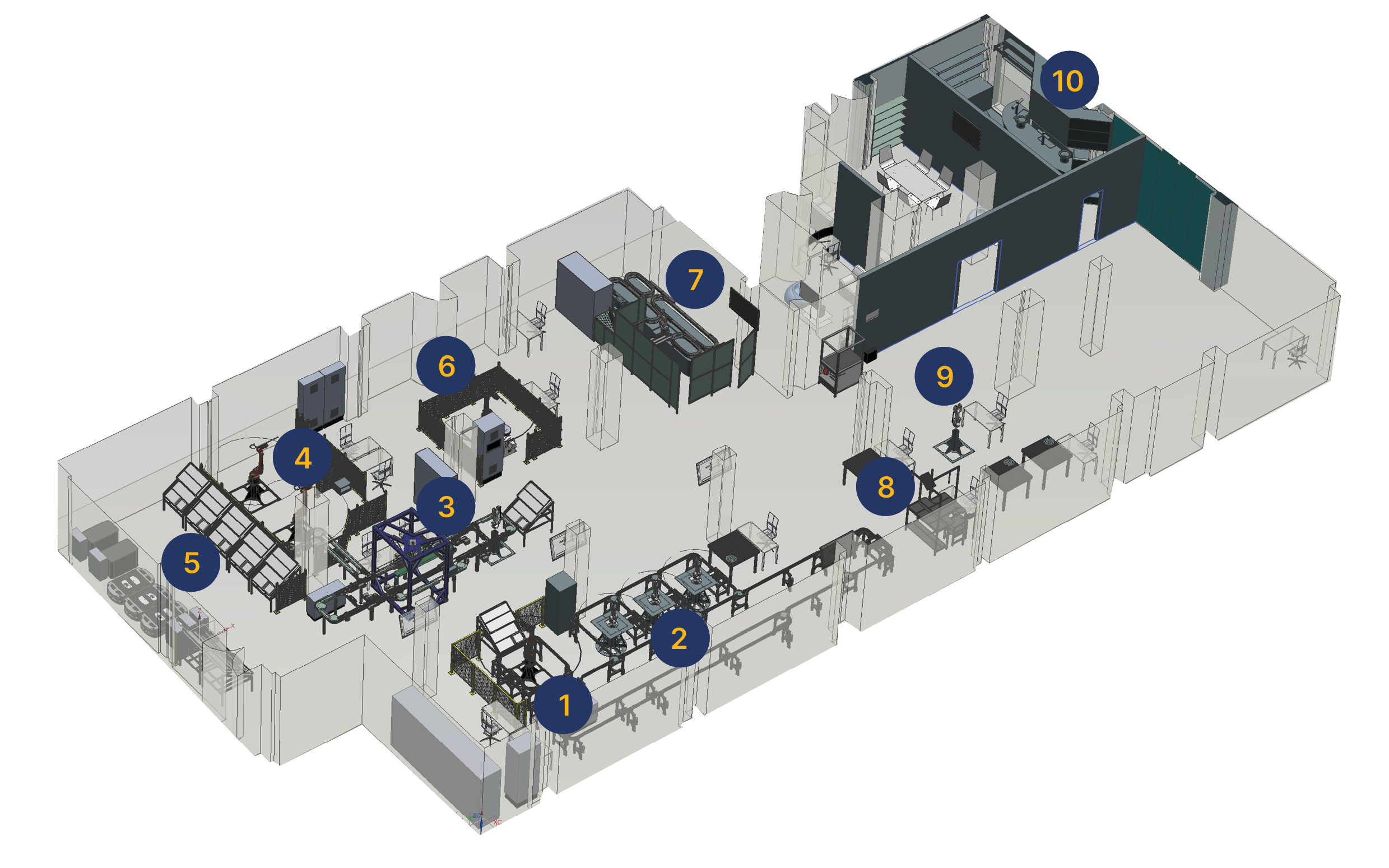 3D Printing Centre – 130 m2.
Smart Grid Lab – 90 m2.
The laboratory focuses on production machines and technologies – located in the basement 570 m2.
Robotic laser cell
Femtosecond+nanosecond laser machine
Education and training area
Metrology laboratory
Machining and hybrid processes area
Tool setting area
Collaborative robot area
EDM machine
Industrial robot area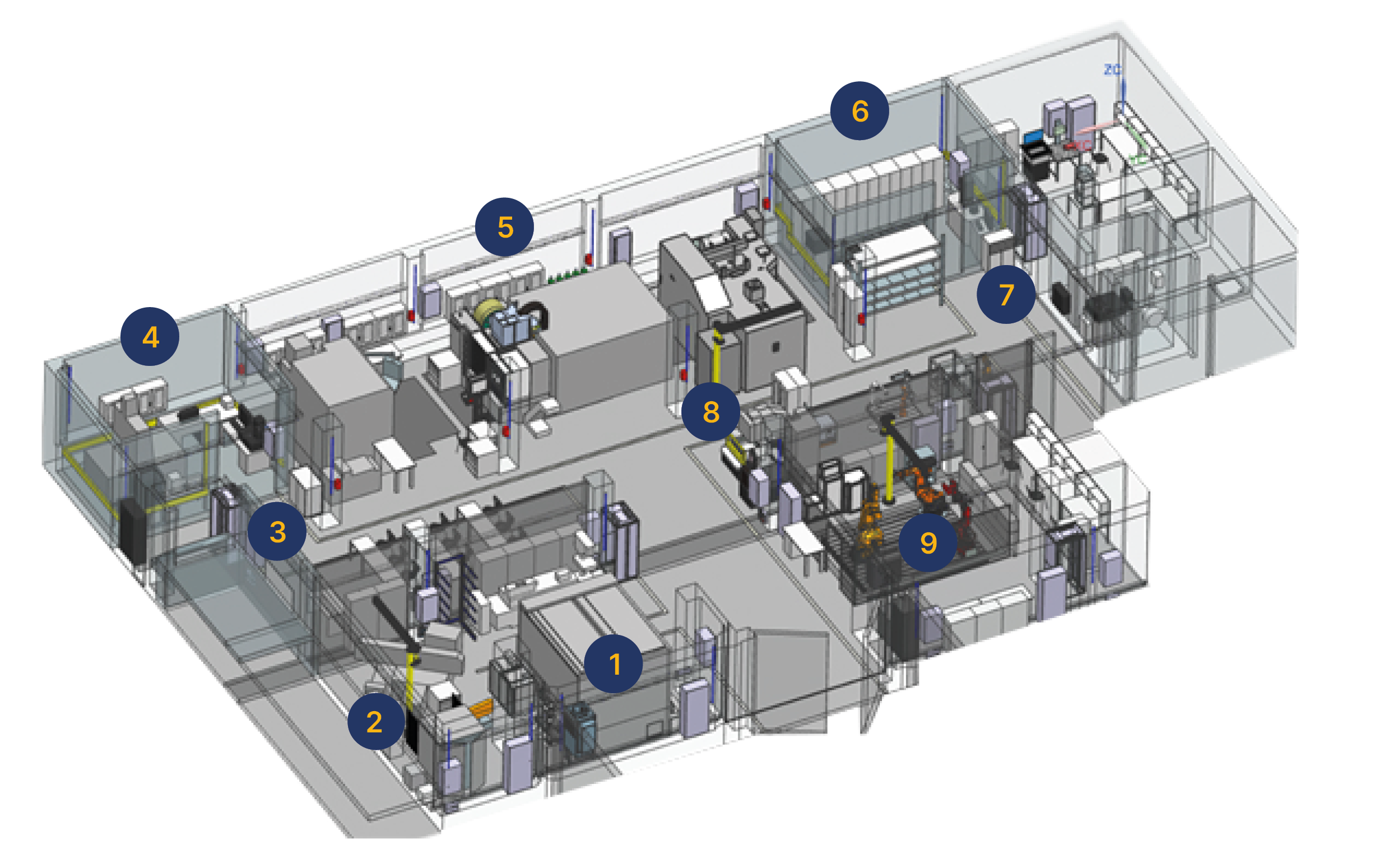 ---
Research Focus
Data Life cycle
IoT and data analytics in data acquisition
Data storage
Big data
Edge computing
Data privacy and sovereignty
Digital twin and digital shadow
Processing of production data, process state analysis, production scenarios, manufacturing processes, metrology solutions, statistical process control
Matching of physical systems and simulations, virtual commissioning
Dynamic models of machines
Production processes and production machines
Production machines
Machining processes and process optimization
Laser technologies
Additive and hybrid manufacturing
Advanced robotics for industrial production
Process and machine diagnostics
Smart Factory & Distributed production
Production as an interconnected ecosystem of productions sites, logistics & customers, autonomous distributed decisions & production plans
Automatic production planning
Material flow planning
Modular and flexible production
Logistic operations
Production as a service – next stage of distributed production
---
Services for SMEs
Use the opportunity to collaborate with us on R&D&I projects that deliver solutions to environmental, economic and technological challenges. We offer close cooperation with industry as well as other entities across sectors and borders to transform the idea into a technology and market-relevant solution.

Test before invest
Prototyping
Consulting services
Equipment and infrastructure rental
Lab & Testbed tours

Advanced Digital Skills & Training
Educational activities in the field of digitalization and AI techniques & technologies
Technology courses and consultations in the field of digitalization and technologies using artificial intelligence and machine learning

Innovation Ecosystem & Networking
Connections with organisations and partners in the field of AI in the Czech Republic and the EU
Sharing best practice and tech transfer
Connection with accelerators and technological integrators

Support to Find Investments
Information and consulting support in finding financial resources (especially grant schemes) for the implementation of digital innovation projects
---
Contact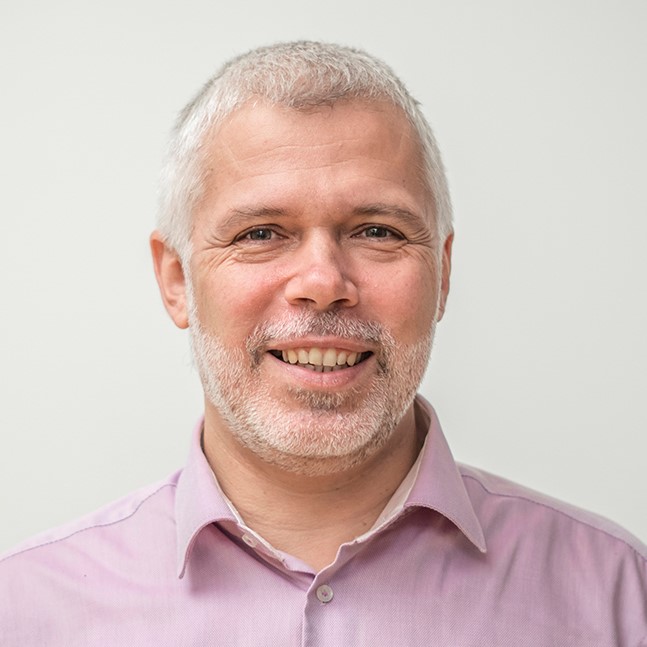 Dr. Pavel Burget
Director of the Testbed for Industry 4.0
Robotics and Flexible Production Lab
CIIRC CTU in Prague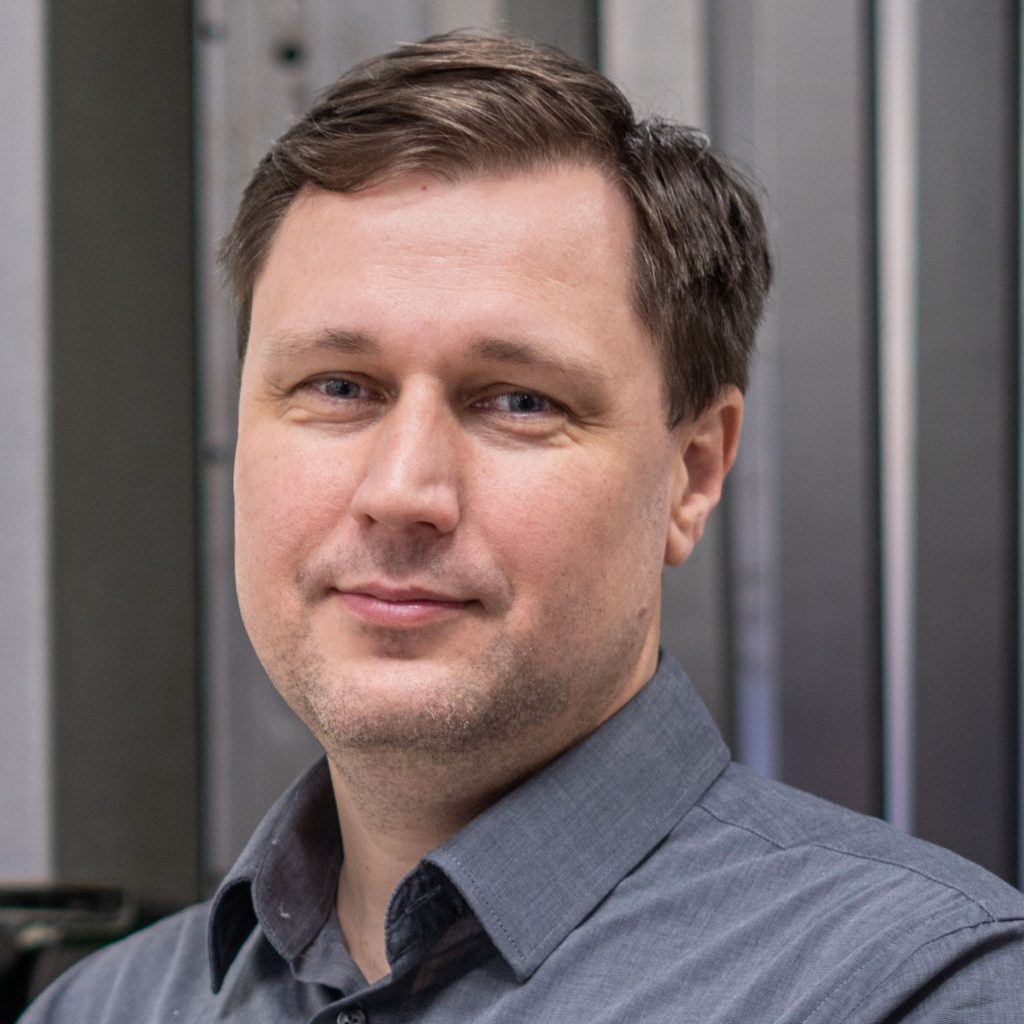 Dr. Petr Kolář
Deputy Head of IPA CIIRC CTU
Robotics and Production Technologies Lab
CIIRC CTU in Prague
Do not hesitate to contact us via this form, we will get back to you:
---
About
The Prague testbed lays on two floors of the CIIRC CTU. The ground floor laboratory focuses on automatic assembly, planning and virtualization of production. The basement part is focused on production machines & technologies. That is where joint research of CIIRC CTU and Faculty of Mechanical Engineering CTU takes place and allows for unique educational conditions. The Testbed is used for research, development, teaching and collaboration with industrial partners. It allows testing solutions for advanced and integrated industrial production and processes for intelligent factories. Prague testbed is involved in several international research projects, mostly in the field of Industry 4.0. The testbed allows optimization of energy efficiency of production systems, diagnostics and predictive maintenance or data mining within the product life cycle.
#MSV2023:
Read more about our demonstrators showcased at the International Engineering Fair in Brno 2023.
Kompletní informace o technologických ukázkách na stánku se dozvíte na této speciální stránce: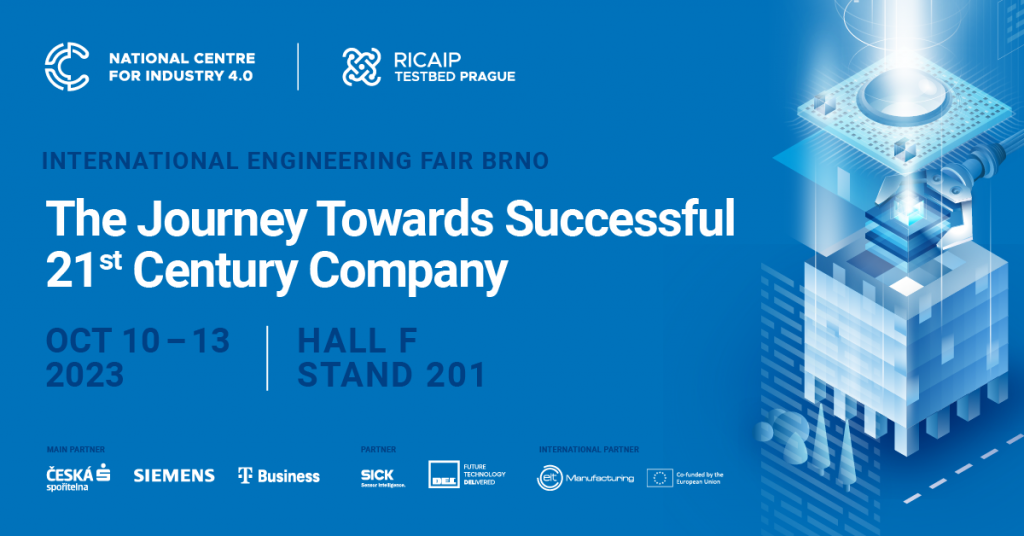 ---
Part I: Robotics and Flexible Production Lab
On the ground floor of the Prague testbed, there are modules designed for flexible production. Universal robotic and production cells, including collaborative robots, are intralogically connected by a fleet of mobile robots and trolleys, software and data also at the level of edge devices, server and cloud applications using artificial intelligence (AI) algorithms; by software and data also at the level of the so-called edge equipment and manufacturing execution system (MES) through server and cloud applications using artificial intelligence algorithms. estbed allows experimenting with available devices or connecting new devices. Thanks to the versatility of the production elements and the control system, the same resources can be used and optimised to perform different operations. The testbed enables experimentation with available devices or the connecting of new devices. There is also an opportunity to test the possibilities of 5G networks (first private 5G network for industrial research in Eastern Europe) within interconnected partner "testbeds" or experimental factories of the future.
The facilities are complemented by a state-of-the-art 3D printing centre with industrial 3D printers of different technologies (MJF, FDM, PolyJet, laser sintering) for printing from plastics and metals. Functionally and research-wise, the Smart Grid Lab for the development of advanced energy systems, including the connection to the photovoltaic system, is also connected to the testbed.
Selected unique technologies:
The production line with conveyor and robots for flexible production supplying parts from the automatic warehouse via autonomous robotic trucks. The conveyors and robots can be controlled either from a central production control system or through a multi-agent system, with the individual machines (conveyor, robots, but also autonomous robotic supply) representing separate autonomous agents.
Technologies for automatic assembly, planning and virtualization of production, including equipment for augmented and virtual reality (AR/ VR)
Multi-axis motion system – delta robot with conveyor with visual guidance and synchronized robot and conveyor axes, including torque sensors on all axes of the delta robot
Automated warehouse with a fleet of autonomous mobile robots that provide intralogistics operations for other stationary manufacturing and assembly cells
Robotic cell with several robots including a collaborative robot and a conveyor allowing synchronisation of robot and conveyor movements to perform part operations directly on the moving conveyor
Robotic workstation equipped with a laser tracker for precise absolute position measurement, which is used both for measuring larger parts (e.g. an internal combustion engine block) and for research in the field of robotic 3D printing
A range of collaborative and industrial robots equipped with various grippers, force sensors, camera systems and visualisation tools for research into innovative solutions for automated robot assembly.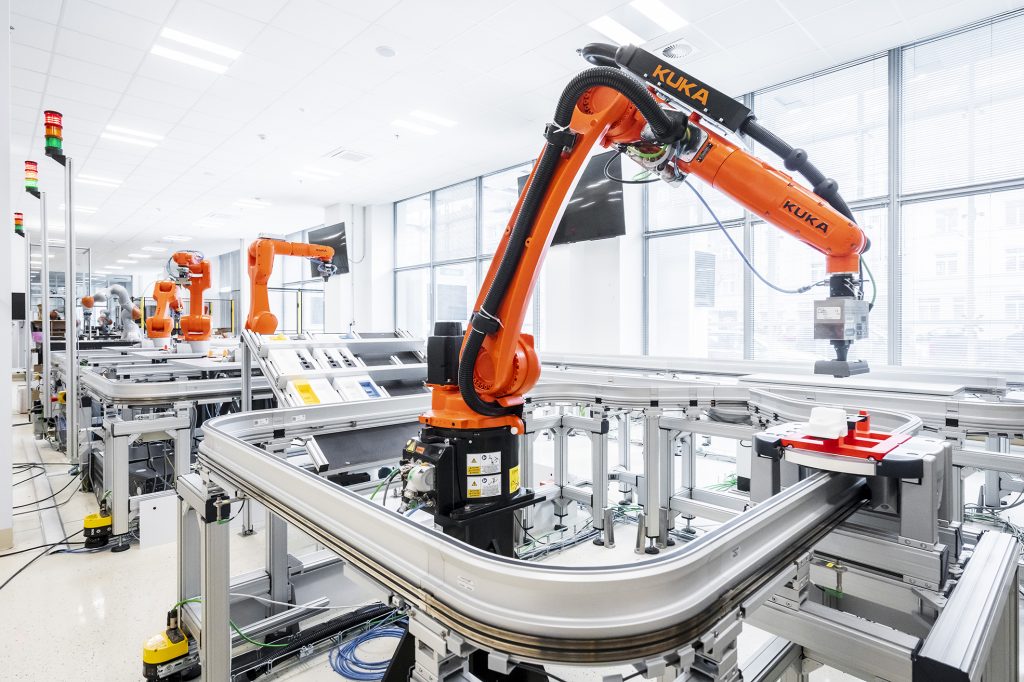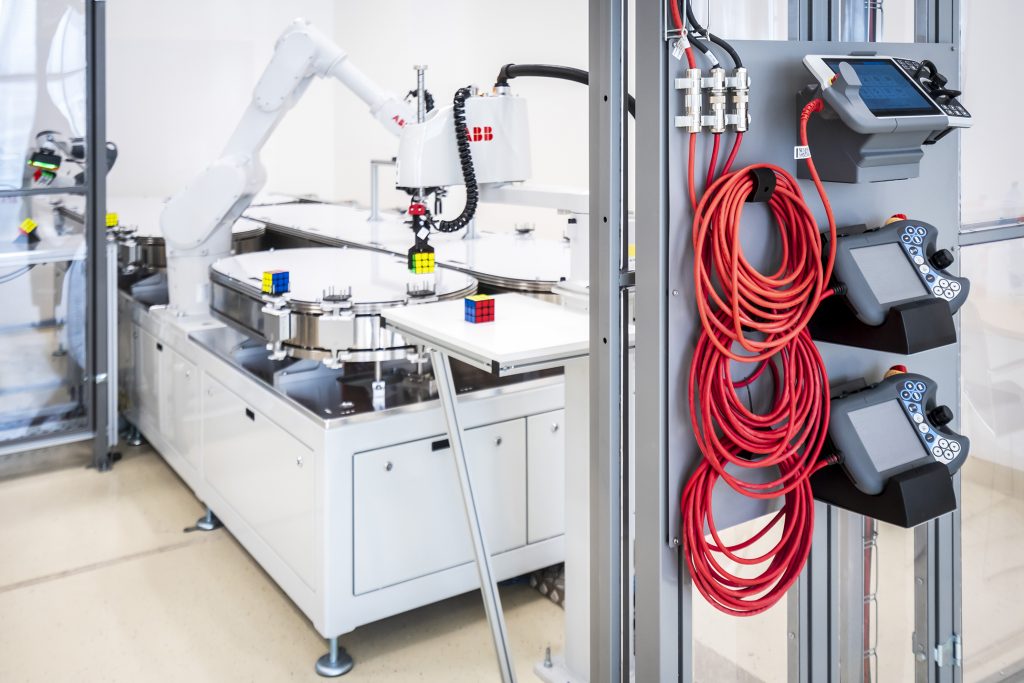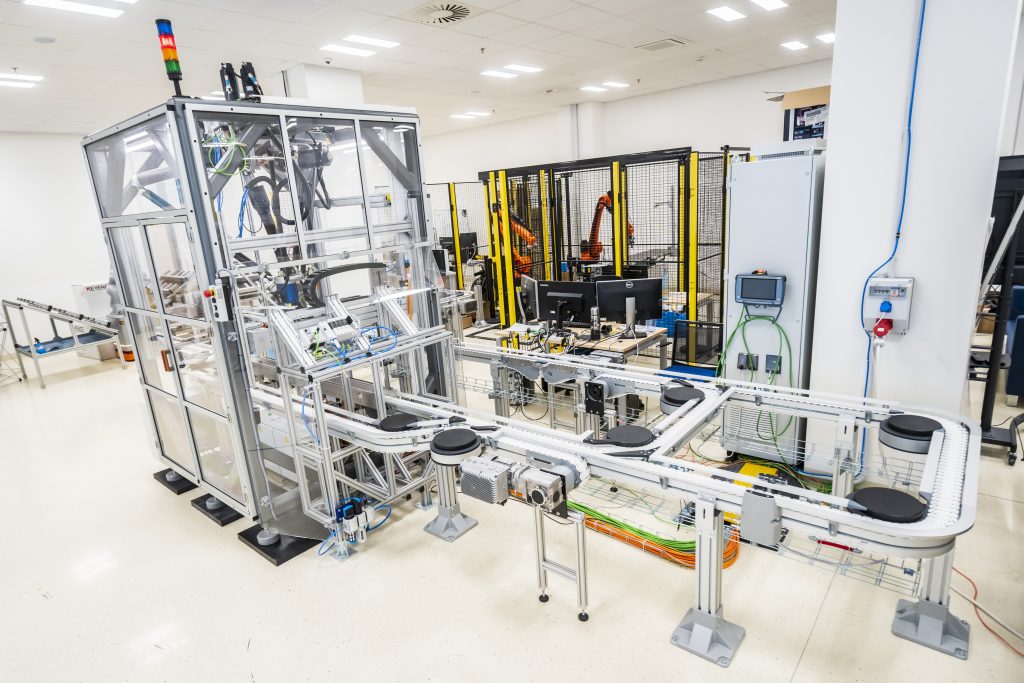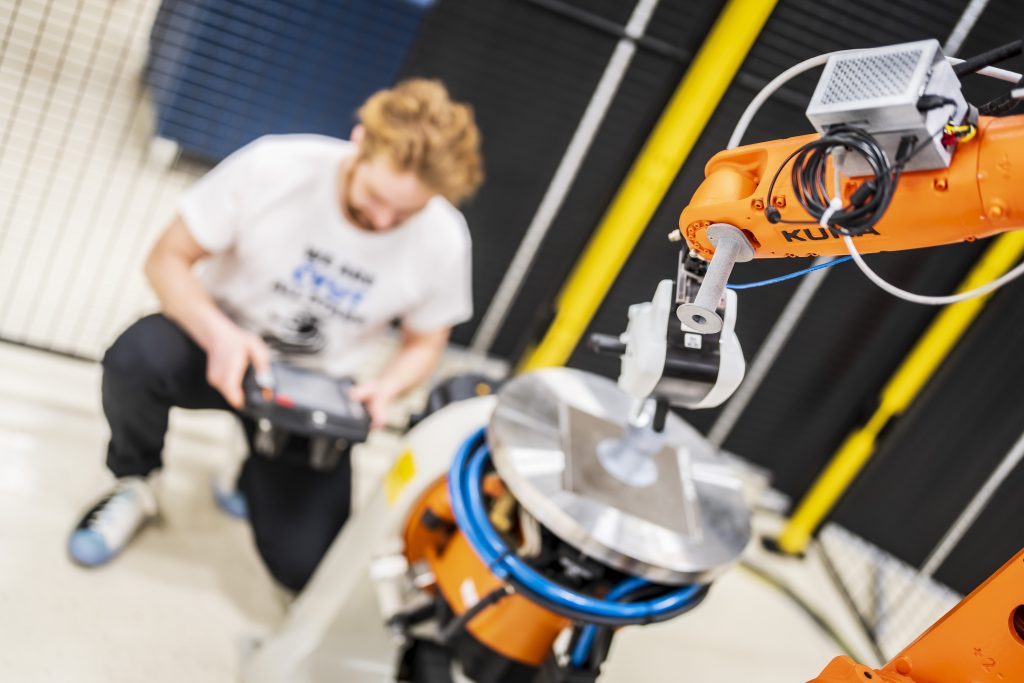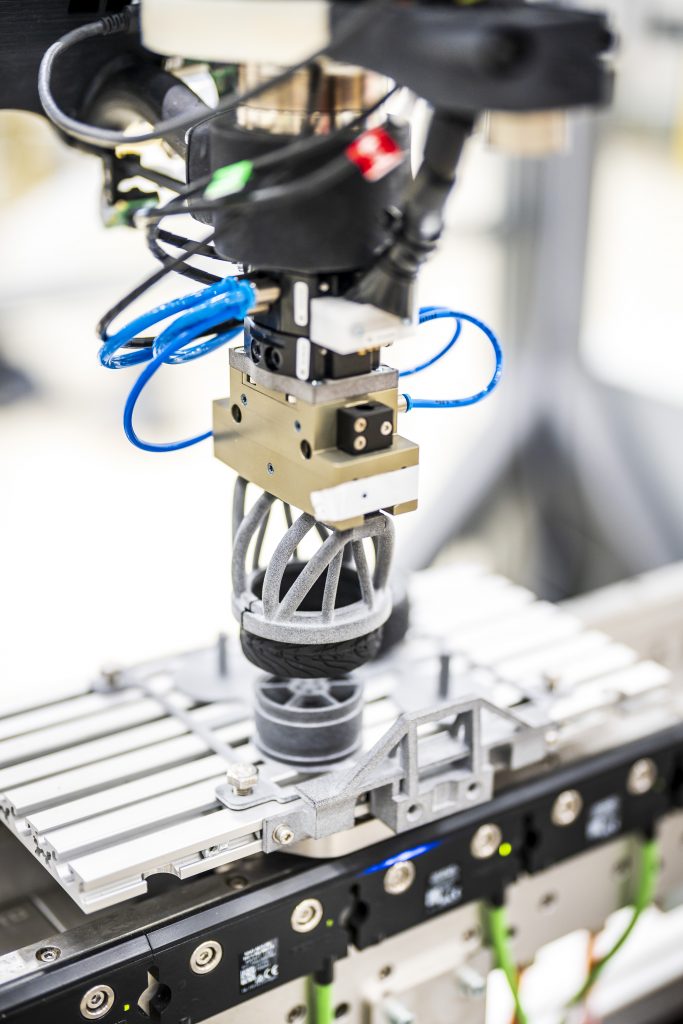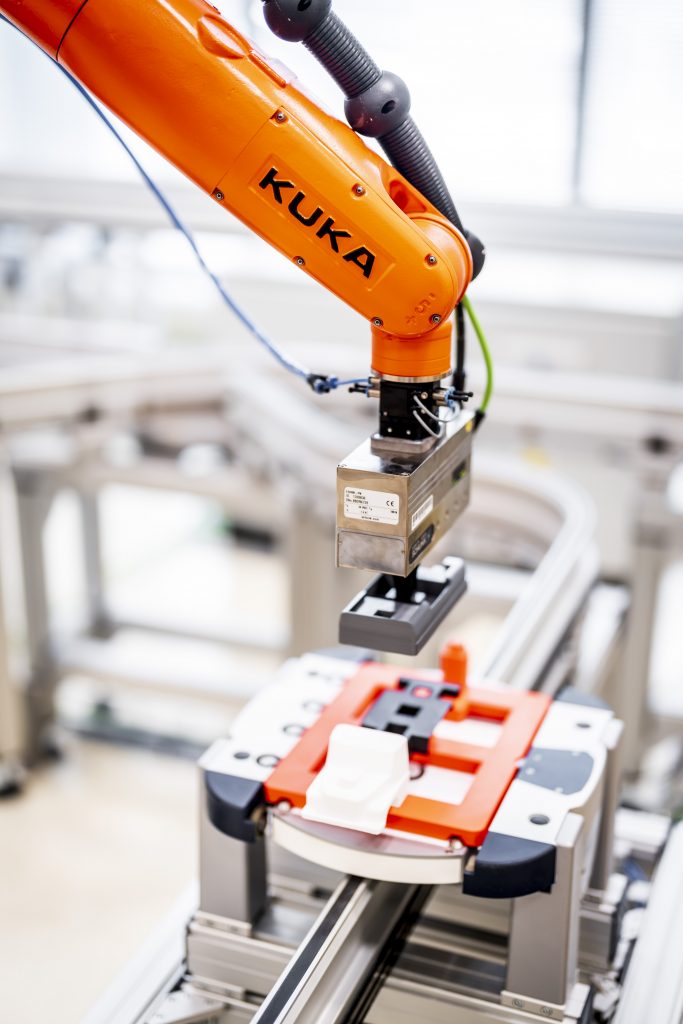 Part II: Robotics and Production Technologies Lab
The lower part of the Prague testbed is focused on the research of production technologies. The scope is on machining processes, additive manufacturing processes, laser-based processes and hybrid processes. There are three areas of the research focus: a) experimental research of manufacturing processes, including in-process monitoring and physic-based modelling of the processes; b) control of production machines for efficient realisation of the manufacturing processes, including advanced physics-based models of the machines; c) integration of the production chains including intralogistics and knowledge sharing between production machines and processes.
The RICAIP investment completed previous laboratory equipment. Currently, within the research of machining operations, the laboratory is equipped with the horizontal machining centre TAJMAC-ZPS H630. This compact and rigid machine with automatic pallet exchange is the main machine for experimental work in the machining area. The experimental potential of the machine is enhanced with the sets of external sensors (accelerometers, dynamometer etc.) for the machining process characterisation. The machine is equipped with advanced control system options and with the Siemens Edge device enabling to monitor the process through the control system data.
The industrial robot area is equipped with industrial robots for machining and AM application. There are three robots equipped with the milling spindle. Optionally, the spindle can be replaced with the printing head equipped with the extruder for manufacturing of large plastic parts. The geometrical complexity of workpieces as well as advanced opportunities for movement control research are enhanced with the additional rotary-tilting table. Moreover, the laboratory is also equipped with a family of smaller (max. payload of 10-14 kg) industrial and collaborative robots from various producers (KUKA, ABB, FANUC, STÄUBLI) for research of assembly operations and human-robot collaboration.
Besides these visible machines, the laboratory is equipped with improved communication and data infrastructure. The laboratory has an internal optical high-speed network, full covering with a 5G network and high-performance servers for fog processing of the manufacturing data collected from the mentioned processes. This data infrastructure is shared with the upper part of the laboratory and concurrently supports the finding of answers for challenges of modern distributed production across the whole RICAIP network.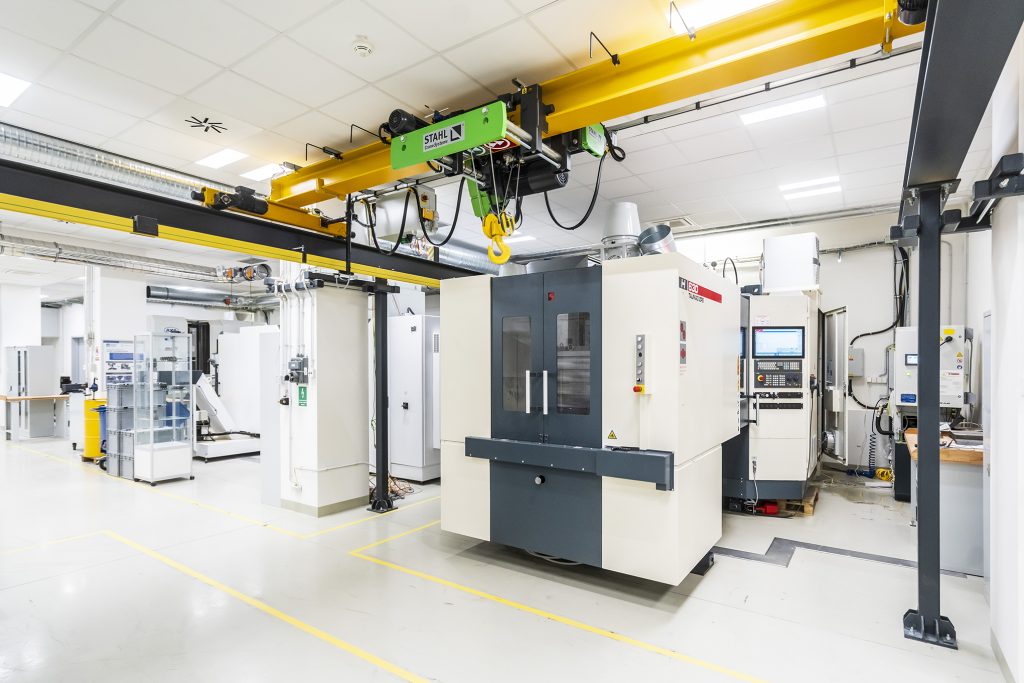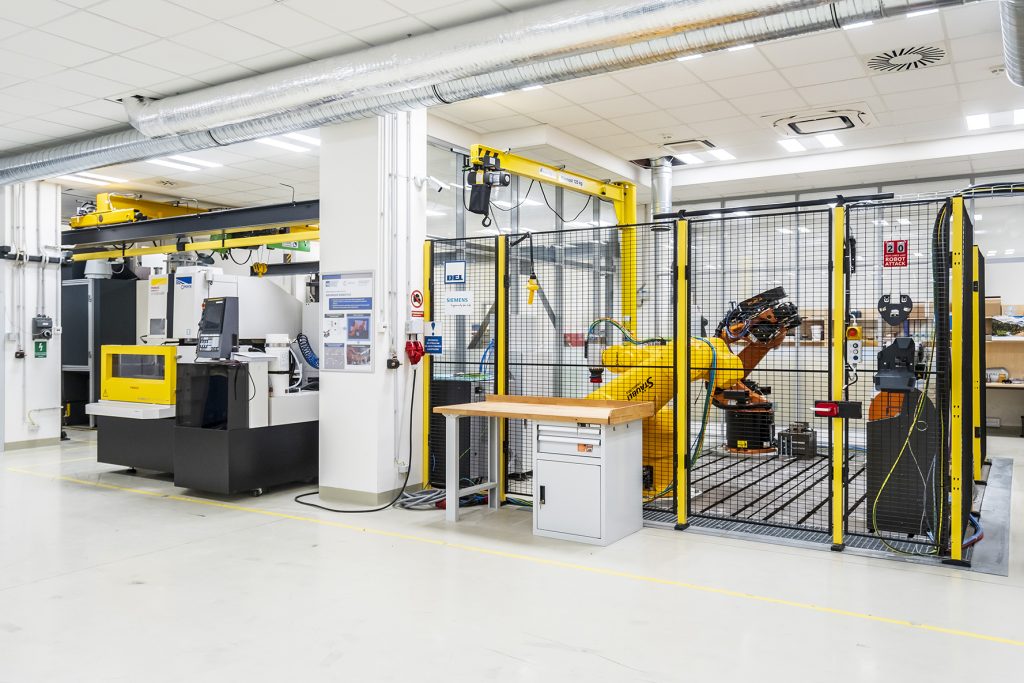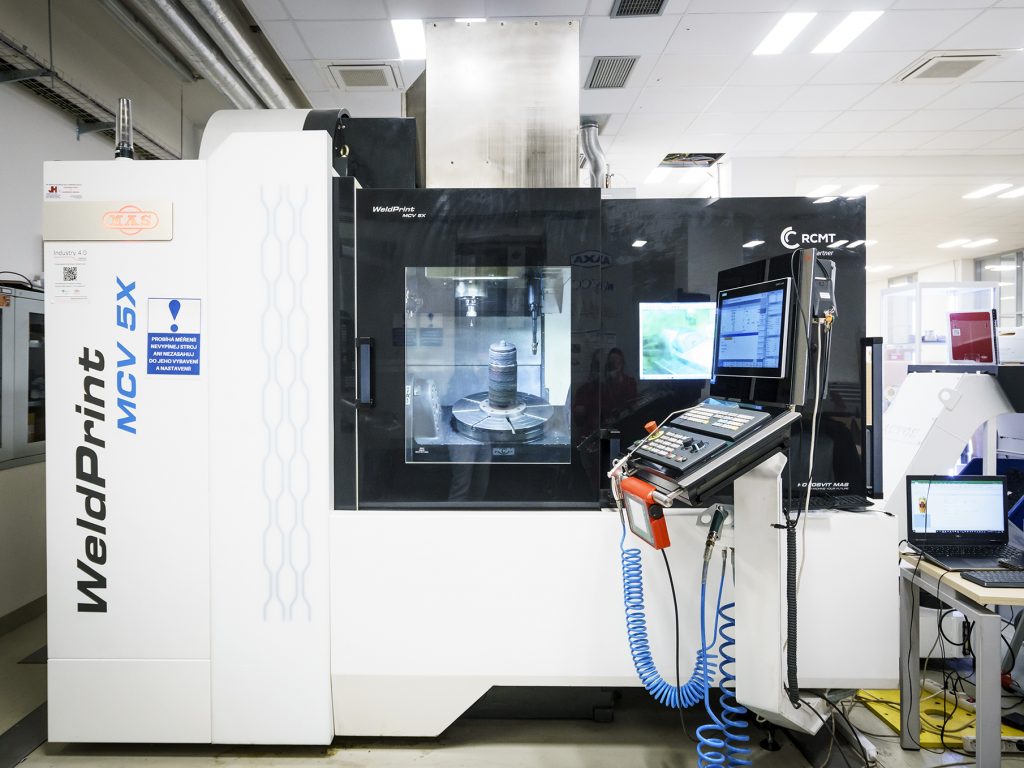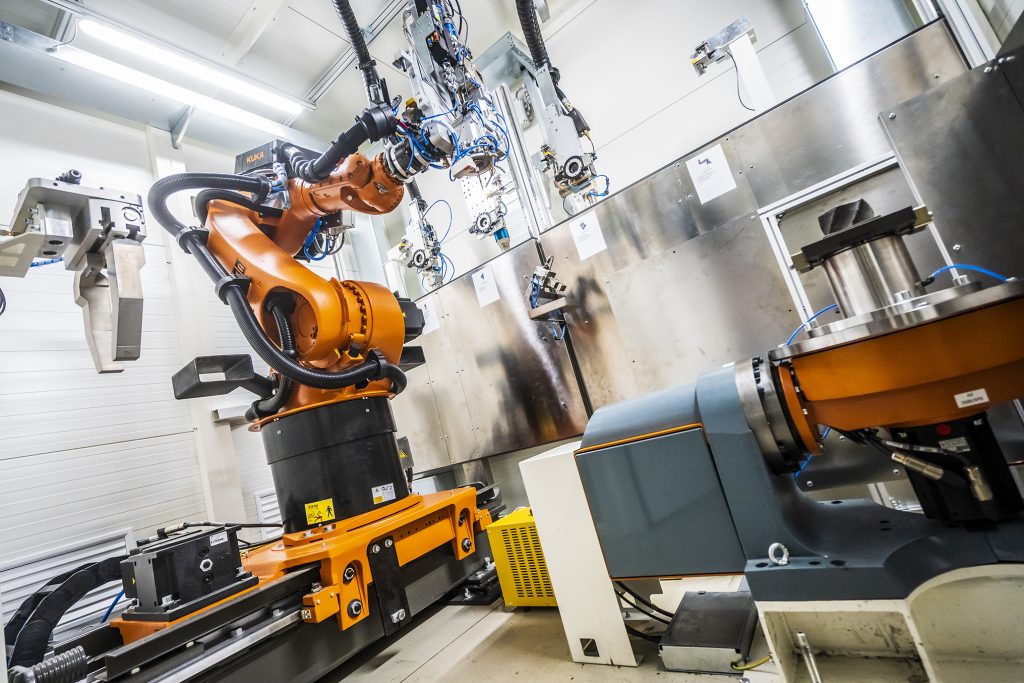 ---
Prague Testbed Gallery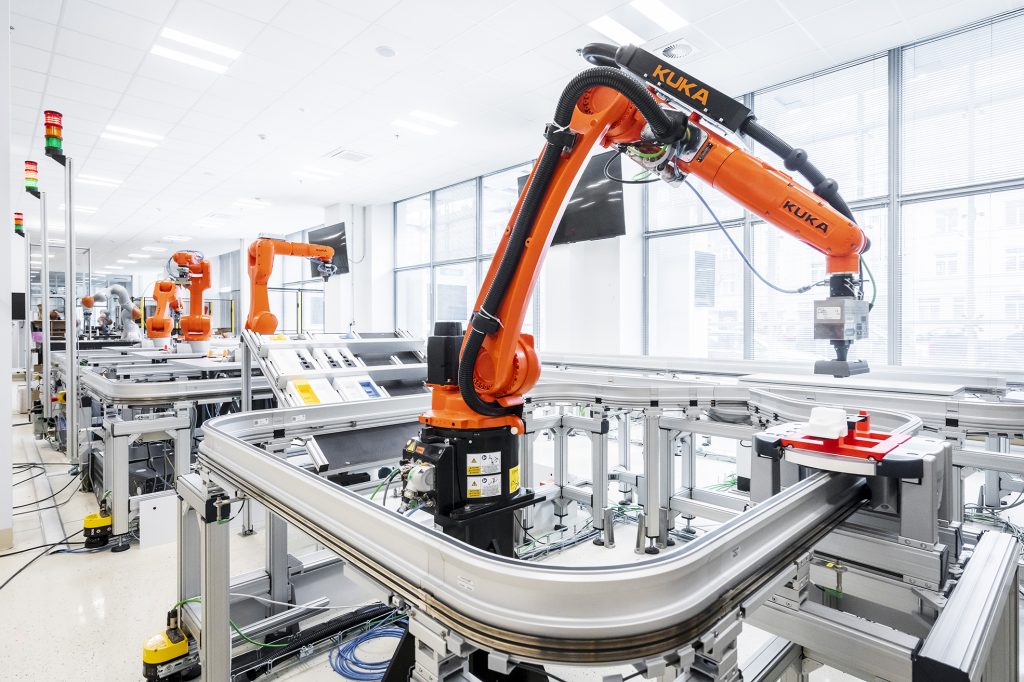 Photos: Jiří Ryszawy (CTU), Marie Svatoňová (CIIRC CTU)
---
Testbed Tour
The two parts of the Testbed – the part for robotics and flexible production and the part for robotics and production technology, will be interconnected at the level of production coordination, data collection & sharing to allow the creation of additional scenarios corresponding to production, for assembly and scenario combining automatic & manual production operations.