Warning
: Parameter 1 to CoBlocks::{closure}() expected to be a reference, value given in
/var/www/ricaip/wp-includes/class-wp-hook.php
on line
326

RICAIP Seminar Series: Science for Sustainability
May 10, 2022
|
09:00
–
12:15
UTC+1
Come to listen to interesting topics, meet in person and discuss – we are interested in your opinions.
You are most welcome!
Join the moderated hybrid events managed and streamed from the CEITEC BUT premises on actual topics related to the social impacts of science and technology. A rich playlist of videos with instructive lectures by speakers from all over Europe is available on the RICAIP Youtube channel.
Please find the list of very interesting speakers in on this page and also on the CEITEC website.
The event will take place at CEITEC Brno University of Technology (Large Meeting Room, Main Building)
You can also attend the event online.
It is necessary to register for the event.
In the registration form, please select which forms of the event you want to participate.
Further information will be sent to your registered e-mail.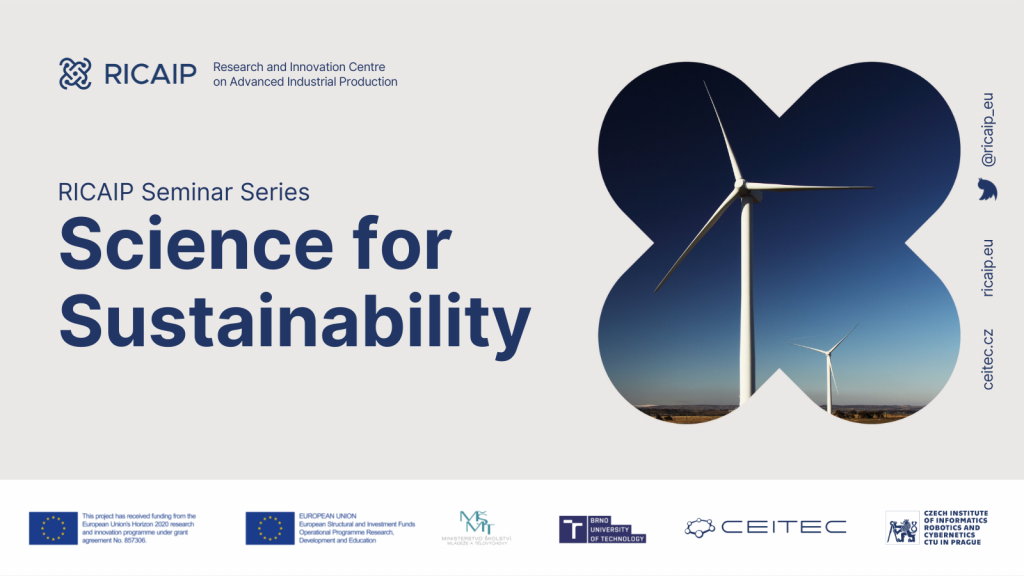 10 May 2022 | 9:00-12:15
Online/ Onsite Event
Register, join the lecture online, try interactive engagement, and find out more about topics such as:
Life Cycle Assessment:
Why is the Life Cycle Assessment (LCA) so important in developing new technologies or systems? How can it help us evaluate all the potential impacts of our decisions, not only on the environment itself?
Are our solutions sustainable and will they meet the needs of future generations?
What about "renewables-based energy systems" – are they really "green" enough
Circular Economy:
Why is the current linear economy based on the "Take-Make-Use-Lose" approach unsustainable?
What principles bring the circular approach for using the created value and attained resources effectively and for as long as possible?
How does it work in practice?
Eco-design & Innovative Materials:
How to combine functional, technological, aesthetic and economic aspects of the product while staying as environmentally friendly as possible?
Modularity, biomimicry, design for repairability etc….all possible strategies and principles that can be applied in eco-design.
How can the innovative materials affect the environmental impacts across the entire life cycle of a given product?
Programme
8:30 – 9:00 Registration and coffee
It is an old motto that 'You cannot manage what you cannot measure', and it is therefore important that we have tools for assessing the sustainability of our choices when we develop solutions or systems that shall help us determine the needs of the present generations without compromising the ability of our descendants to meet their needs in the next future.
As scientists, we must take a life cycle perspective when we want to assess the sustainability of the technologies that lie in front of us. Very often we face problem shifting where solutions that improve or solve a targeted problem unintentionally create new problems of environmental, economic or social nature somewhere else in the systems affected by our choice.
Life Cycle Assessment (LCA) shows all the potential impact of our choices, through the analysis of the whole life cycle of the system or product that is the object of the study and it covers a broad range of potential impacts for which it attempts to perform a quantitative assessment.
Scientists or science managers who develop decision support, or make decisions where sustainability is a concern, should understand the need to view the solutions in a life cycle perspective and to consider possible trade-offs between environmental impacts and between the three sustainability dimensions.
Renewable energy technologies are often improperly flagged as "green" in different media. However, this denomination often only holds when they are considered solely in their use stage and mainly in relation to climate change impacts. Renewables have important environmental impacts outside their use/operation stage, e.g. production. Therefore, when taking the whole life cycle of renewables-based energy systems, one may demonstrate that they are "greener" than fossil-based energy systems, but they are not free of any environmental impacts. In the second part of this talk we will consider this secondary, but important aspect of the life cycle of any energy generation system, from extraction of materials for construction to decommissioning and disposal of any power plant.
10:30 – 10:45 Coffee break
Globally, our current economy is linear – when creating products, the approach is Take-Make-Use-Lose. We take materials and energy from our environment and manufacture products from them. The results are then sold to customers and when the life cycle ends, waste is generated. There are two main issues with this. It's highly ineffective – lot of resources, money and value are getting lost in the process. The second one is that it's very unsustainable – resources get depleted and we're already running out of them, and the amount of unutilized waste is growing immensely.
The solution is transitioning to circular economy, where the created value and attained resources are used as effectively, and as long as possible. With respect to our environmental, social and economic needs. This means exploring new business models, stretching the lifetime of products, using waste as a resource, or taking advantage of digital technologies. Above all, it means great interdisciplinary cooperation and advancement of knowledge and innovation. Science and engineering, as well as public sector and local communities, play a crucial role in this.
Ecodesign can be defined as the systematic consideration of the environmental aspect during product design and development. The goal is to create solutions whose environmental impacts are as small as possible across the entire life cycle of a given product. At the same time, the environmental factor must be balanced with functional, technological, aesthetic and economic aspects. The lecture will present possible strategies and principles that can be applied in ecodesign – such as modularity, biomimicry, design for repairability, emotional durability and more.
The materials used can significantly affect the environmental impacts associated with the entire life cycle of products. Through the choice of optimal materials, it is possible to highlight not only the functionality, price, visual and haptic qualities, but also the durability of the product and its potential circularity.