The first Artist Residency on AI in RICAIP
August 31, 2021
|
14:00
–
17:00
UTC+1
After a month-long stay at the residence for the study of artificial intelligence at the Goethe-Institut in Prague, during which they got acquainted with the activities of the Research and Innovation Centre on Advanced Industrial Production (RICAIP) at the Czech Technical University (CTU) in Prague, the French-Korean artist duo Douna Lim and Théo Pesso returned back to Paris on September 30. We offer a look back at their month spent in the Czech Republic.
Original Article (in German)
The interest of this artist duo in new technologies is not new. Already in 2019, Douna Lim and Théo Pesso had experimented with computer technologies in the experimental fiction short film Mario 101 about the death of Mario Tchou, a Chinese-Italian engineer who died in a car accident in the 1960s. For the script of this film, these artists used Google's language processing program, the Cloud Natural Language API based on machine learning.
When asked about their interest in new technologies for their next artistic project, the artist duo answered that they are not only interested in the mere use of technologies, but rather in reflecting on their use in our everyday lives, and how technologies change our lifestyles. In their work, they want to reflect on how technologies affect the cultural, economic, and political context of the world we live in.
Exchange of Experience in the RICAIP Centre
One of the challenges associated with the invitation to exchange experiences with researchers in the field of artificial intelligence is communication. How can a language consisting of highly technical, mathematical, and algorithmic concepts be translated into a language that can be understood by people without IT training?
For Douna Lim and Théo Pesso – who mostly create audio-visual works – this common language has been that of images, and the language of visual perception of machines, some of which are partly coordinated by artificial intelligence. One of the questions that the artists asked, which helped to establish the link between their art and mathematical and algorithmic research, was about the changes that artificial intelligence could bring to cultural industries, such as the film industry. Both still recall discussions about how the deep learning process enables programmes to "learn" to recognise objects, associate them with concepts, and understand tasks and actions. The challenge for researchers is to enable the machines to reproduce these tasks and actions, but also to develop a "common sense".
It was interesting for both artists to understand the extent to which new technologies are changing civil society and the cultural world. Indeed, new technologies such as AI have a direct influence on the means of production, but also on the framework of cultural production: more and more cultural workers produce and disseminate their works in an automated way. This leads to the standardisation of cultural production and according to Douna Lim and Théo Pesso, to a certain extent to its impoverishment. For them, the multiplication of the cultural supply goes hand in hand with less diversification of form and content.
"When it is consumer habits that determine the future cultural 'market' and a product is designed on the basis of data analysis to increase efficiency, we believe there is a fundamental problem because this system reinforces prevailing ideas and prevailing lifestyles."

Douna Lim & Théo Pesso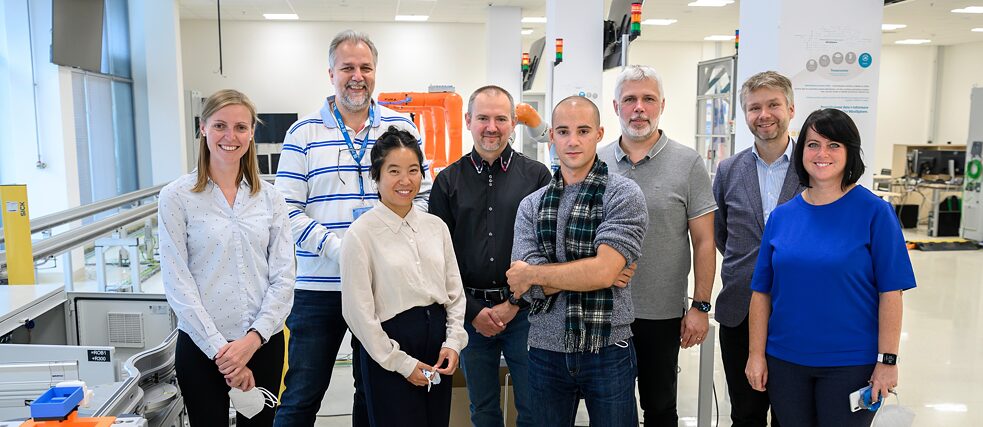 Conclusion
A few weeks after the end of their residency, the two artists stated that they were glad to be the Goethe-Institut fellows and guests at the RICAIP Centre and to have the opportunity to discover an area that is usually difficult for artists and non-researchers to access. They've been able to carry out this internship in the Czech Republic at the Czech Institute of Informatics, Robotics and Cybernetics, CTU in Prague (CIIRC CTU). For the artistic duo, it was particularly interesting to be introduced to the field of industrial AI research in a former communist country, as it enabled them to analyse the political and historical context of the Czech Republic and observe its impact on scientific research.
For Douna Lim and Théo Pesso, however, the gathering of experience and artistic contribution does not end with the exchange of views at CIIRC CTU and RICAIP. Both artists were happy to have discovered the City of Prague and Czech culture for themselves. This allowed them to open up to a new influence on their art.
Future Artist Guest of the Residence for the Study of Artificial Intelligence
On October 21, London-based artist Lily McCraith arrived at Goethe-Institut in Prague to explore the world of AI research at RICAIP and CIIRC CTU as well. The young artist has a computer science background and uses many media in her artistic creations – such as augmented reality (AR), 3D modelling, 3D printing, electronics and even artificial neural networks and machine learning. Her approach will be different from that of Douna Lim and Théo Pesso, as Lily McCraith would like to use her stay in Prague to think about how artificial intelligence could solve ecological problems.
Author
Mylène Garin
Copyright: Goethe-Institut Česká republika