On the occasion of Korea – V4 Summit in Budapest, the Czech Institute of Informatics, Robotics and Cybernetics of the Czech Technical University signed a Memorandum of Understanding with the Korea Testing Laboratory (KTL) on November 3, 2021.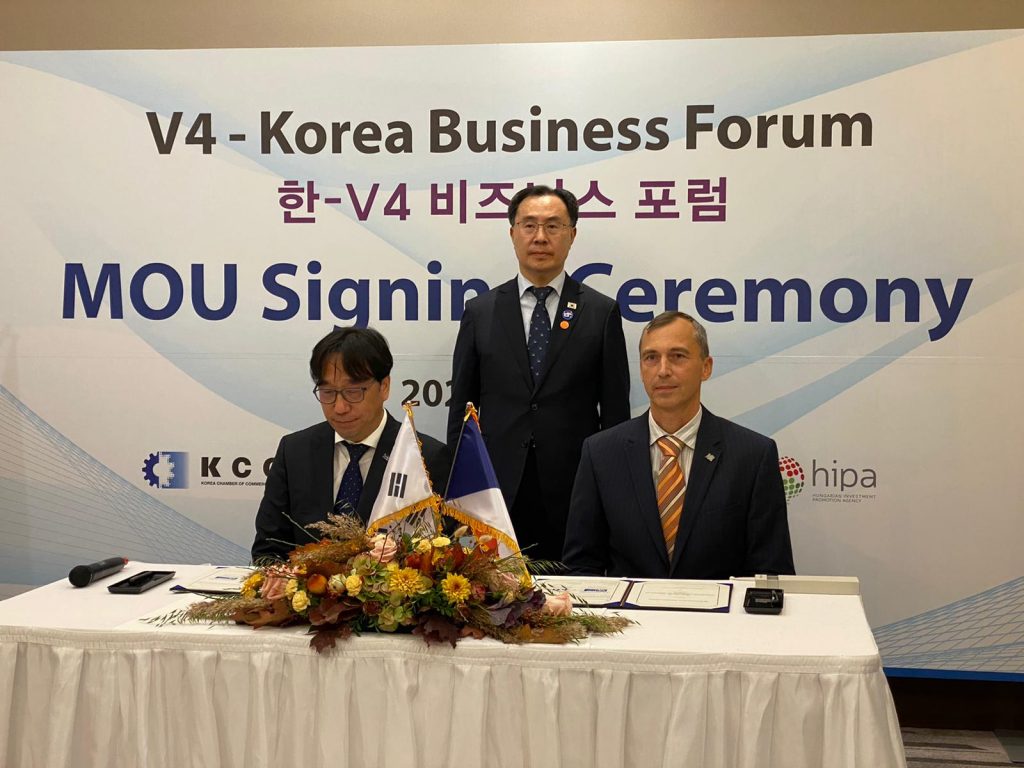 KTL was established in 1966 by the Korean Ministry of Trade, Industry and Energy to support new technologies by testing and evaluating them, and to create new standards. Newly, it focuses on the area of new technologies of Industry 4.0 and the application of artificial intelligence. KTL is also an important element in promoting mobile 5G networks in the management of modern production processes. These are also the strengths of CIIRC CTU in Prague, where within the unique Testbed for Industry 4.0, which is built and connected to the European Centre of Excellence RICAIP within a joint Czech-German project, a research infrastructure with the first stand-alone 5G private network in the Czech Republic is created. Through cooperation with the National Centre for Industry 4.0, we support the dissemination of modern technologies and processes to industrial companies in the Czech Republic.
After the speech of Moon Jae-in, President of the Republic of Korea at the Business Forum V4-Korea, Director of CIIRC CTU Dr Ondřej Velek and the president of KTL Dr Se-jong Kim signed a Memorandum of Understanding. Moon Sung Wook, the Korean Minister of Trade, Industry and Energy, also took part directly in the ceremony.
"This is an important step following the visit of the Korean delegation to us two years ago. We feel a deep interest on the Korean side to get fully involved in Industry 4.0 in production, and this is exactly our goal. Korea is a world leader in the 5G networks, so I very much welcome the exchange of experience in this area. At the same time, KTL is an important partner of many industrial companies, so I can see opportunities to involve these Korean companies operating in the Czech Republic in our activities."

Dr Ondrej Velek
The cooperation of CIIRC CTU with KTL was also supported by the rector of CTU doc. Vojtěch Petráček with the fact that the established contacts can be useful for other parts of CTU as well.
For the news in Korean please visit KTL website.
Source of the original information: CIIRC CTU