Robobar in the RICAIP Testbed for Industry 4.0 at CIIRC CTU in Prague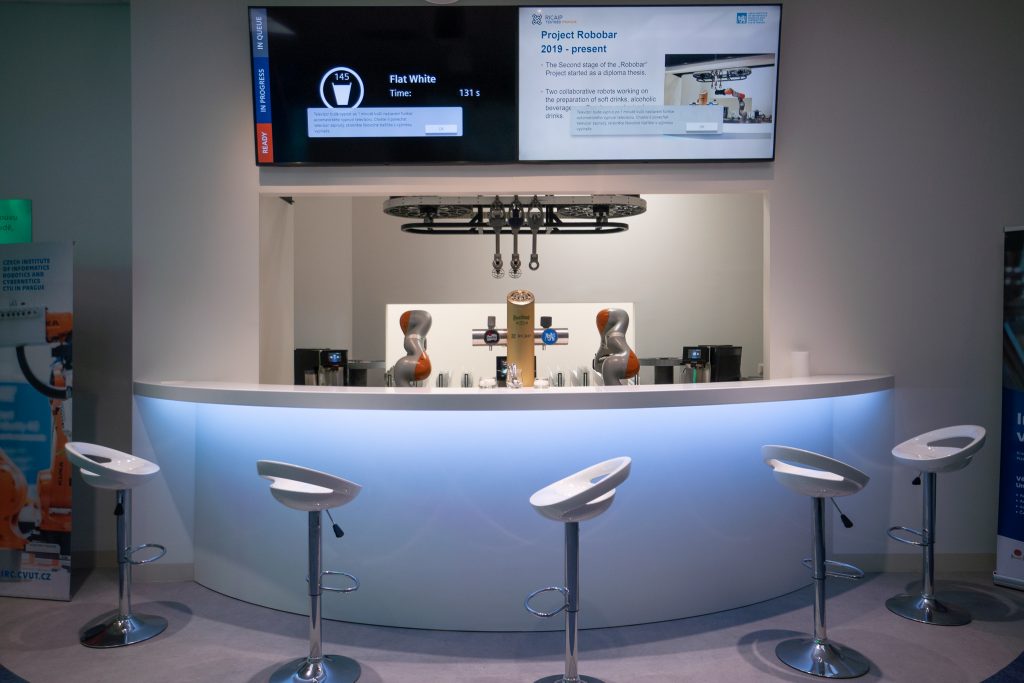 Robots that can tap beer like a skilled bartender. You can also order lemonades, coffee, alcoholic and mixed drinks. All you have to do is enter your request via the ordering tablet and remember your order number.
In addition to the two collaborative robots, the Robobar in Testbed for Industry 4.0 also uses the functions of other devices, including a liquor conveyor, fruit feeders, an ice feeder and more. It's all connected via a common industrial communication platform.
The entire site uses industrial components to provide a stable platform for software implementation and covers a number of advanced technologies. HP Multijet Fusion 3D printing technology was used to produce a unique conveyor, grippers, as well as a safety rubber gripper cover on the robots. The visualisation of the ordering system uses the latest technology from PLC manufacturer Siemens to enable a faster and more efficient development process. When an order is placed, the customer is assigned an order number, which is then displayed on the TV above the robot. This workstation pushes the boundaries in collaborative robotics in foodservice operations.
The main idea of a robobar was born in 2016. The result of the pilot project was one collaborative robot working on preparing soft drinks and alcoholic beverages. In 2019, it was decided to continue developments in this direction and bring the robobar to a new level with expanded functionality and offer.
Smart appliances are becoming an integral part of our homes. They not only save a lot of time and energy, but also provide greater safety and convenience. They can be monitored and controlled not only with a smartphone or tablet, but also via the Amazon Alexa voice assistant or smartwatch.