On Thursday, 27 January 2022, Prof. Steffen Ihlenfeldt, Director of Fraunhofer IWU, visited CIIRC CTU and met with the research teams of the Testbed for Industry 4.0, the RICAIP node. Together with Dr Tilman Becker, RICAIP Director, they discussed various fields of common research interest, namely robotics, artificial intelligence, hybrid manufacturing, and virtual and real machining. It was the very first meeting between him and the RICAIP researchers that opened a discussion on the opportunities for multiple future collaborations, incl. potential projects at the European level.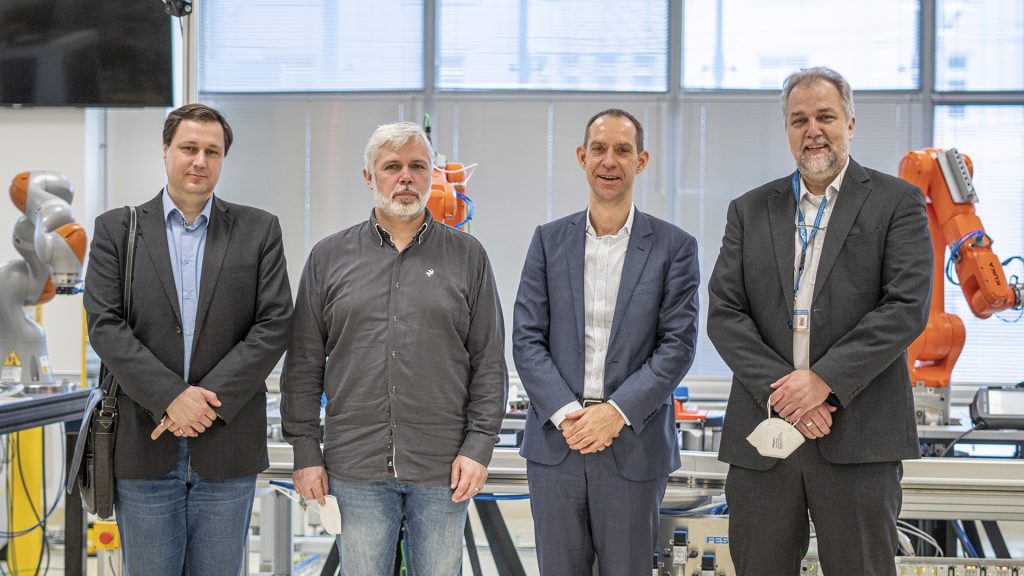 Prof. Ihlenfeldt completed an extensive tour through both floors of the Testbed for Industry 4.0 at the Czech Institute of informatics, robotics and cybernetics CTU and was shown several new technological types of equipment just acquired in recent months within the RICAIP Centre, financed by national and EU funds.
The CIIRC team presented for example a flexible production line with different types of robotic and automatic loading stations such as a six-axis robot or a robot for human cooperation, a robotic station with visual guidance for pick & place operations, hybrid production machines for the production of complex parts, a five-axis machining centre for research of controlled multi-axis movement of machine tools, or a combined laser system enabling cutting, welding and surfacing in a fully automated process. Also, Prof. Ihlenfeldt could see a peak preview of what will be seen this year on the occasion of the grand re-opening which has been scheduled for the first half of this year.

The Chemnitz-based Fraunhofer Institute for Machine Tools and Forming Technology IWU has one of its technical branches also in Dresden. This includes an experimental facility of approx. 1000 m² for research in the areas of additive manufacturing, mechanical and medical engineering.
Our teams look forward to future announcements and opportunities for more extensive exchanges between the two facilities.