On Wednesday 17 March 2021, an internationally recognized expert on Artificial Intelligence Tomáš Mikolov, who is currently the RICAIP tenure track position holder, will present and discuss the opportunities and current use of AI during a webinar roadshow organized for SMEs by the National Centre for Industry 4.0 and CzechInvest Agency, this time also in cooperation with the RICAIP Centre.
We would like to invite you to join the webinar for industrial companies on the "Machine Learning and Artificiall Intelligence". The event will be held in Czech language and is free upon registration HERE.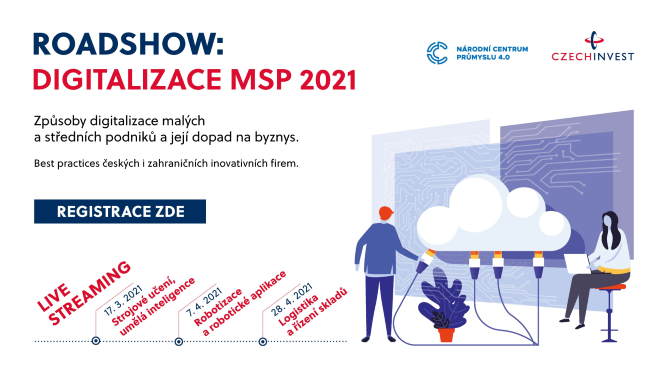 Tomáš Mikolov will tackle questions as: What is the real artificial intelligence and what only pretends to be AI? Where can we meet AI and what areas are still waiting for its utilization? What is the difference between neural networks in the brain and those that solve complex computer tasks? And what role does mathematics play in translating our speech? We will discuss these and other issues with Tomáš Mikolov, whose research of new models of neural networks has dramatically improved the operation of language recognition and processing applications such as Google's machine translator.
The discussion is a part of the series "ROADSHOW: DIGITIZATION OF SMEs" which has been organized since last year by the National Centre of Industry 4.0 (NCI4.0) and the Business and Investment Development Agency CzechInvest. Current part of this series is supported also by the RICAIP Centre.
Main topics of the seminar series are digitization of production according to the principles of Industry 4.0, new technologies, applications and procedures that can help SMEs manage the production and operation of the company in the spirit of 21st century industry.
Among other speakers, Daria Hvížďalová, partner and co-founder of Mainware from the portfolio of JHV Group, will talk about the possibilities of practical application of artificial intelligence and machine learning in industry. Real applications based on artificial intelligence and machine learning will be presented on their examples by companies that develop and adapt these applications to the requirements of their customers – Kendaxa Development, 24 Vision and Born Digital. A representative of the Valeo research team from the R&D center in Prague will talk about research in the field of autonomous management and parking, which is based on the use of AI.